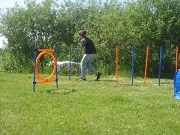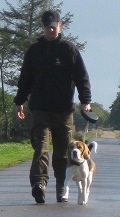 Mosegårdens Dog and Catpension/ Brande dyrecenter/ Brande Internat for Dyrenes Beskyttelse, Sønderkærvej 11, 7330 Uhre,Brande is owned by Birgit and Kent Karlsen, who live on site and run the pension round the hour, together with their full time employees: Anna Skov Skovbjerg, Thomas Kjørvel, Jette Møller Sørensen, Christina pedersen and Kamilla Karlsen, including help from 6-10 part-time assistants. Every employee has care and engagement for animals in common.
We have had the pension since 1986 and are registered under control from the authorities and also the Danish Animal Protection Society for whom we run a shelter for cats and dogs.
The care for each dog/cat is based on; what the owner informs us about their pets, individual needs and routines of the pets and years of knowledge and forth going education/training.
The pension is both for cats and dogs, organized in different departments where dogs and cats are separated.
Every pet has its own spacious room. If an owner has more than one cat or dog, who go well together, it is possible for them to have a double room. Under all circumstances we will always find the best suited room for each individual pet.
Every dog has its own outdoor area with free access from its room. On top of this, we have large outdoor areas, with different walking trails, where we walk the dogs on a leash. We also have different fenced areas, where the dogs have the possibility to run free.
The rooms in the cat department, are individually arranged with their own blanket covered chair that forms a cave, a toilet, a dining area, and climbing facilities.
The cats can see and has the opportunity to interact safely with its neighbour. The cat has the possibility for a bit of freedom in the hallway which also functions as an activity/play area. Also for the cats, we have a secured outdoor area for those cats who are used to outdoor access.

The stay at our pension will offer your pet much stimulation, exciting experiences, socialising with us and lots of love and treats, including daily walks in the open for the dogs, in accordance to the individual needs. The daily rhythm also includes quiet periods for resting/sleeping, to avoid over stimulation.
On arrival, we ask for relevant information, we ask for you to be helpful and help your pet to a good start on its stay, by being calm and relaxed. Also please remember that when come to pick up your pet, it will be happy to see you again, so allow some extra time for your reunionJ.
We will do everything we can to avoid unforeseen circumstances. Should anything happen and should it become necessary, we will contact our veterinarian.
We also point out, that the stay of your pet always is at your/the owner's risk.
The pension has lots of blankets, beds, toys, treats, activity areas, cat toilets, bowls and premium quality pet foods, including vegetarian food. We also offer bread and canned pet food if needed.
It is possible to bring your pet's own belongings, but please avoid bringing things you would be sorry to loose.
A t-shirt, worn by the owner that haven't been washed, is a very good idea to bring along and this will ease the beginning of the stay for your pet.
Dogs have to be vaccinated with two basic vaccines against the most common contagious diseases at least one week before the stay. This vaccination is only valid within a period of 3 years. If in doubt call us or your vet for information.
In supplement, we ask, that all dogs have also been treated with the intranasal kennel cough vaccine within the last year and at least 3 days before the stay.
Cats have to be vaccinated against the most common contagious diseases at least one week before the stay. This vaccination is only valid within a period of 1 year.
Prices: please see Priser
Finding us: please see Rutevejledning
Contacting us and phone hours: +4597187123
Mon-Fri.: 8-10 AM and 5:30-6:30 PM
(if nobody answers, please leave a message and your phone number or try again later).
Opening hours:
Every day:10-11:30 AM and 5-7 PM,
except the following days:
December the 24th only open: 10-11:30 AM
December the 31st only open from 10 AM-1 PM
January the 1st only open: 4 PM-7 PM
We ask that you keep our opening hours in respect to the daily rhythm of both animals and personnel.
Please note, that we can be fully booked in advance of holiday periods, so to be sure, be out in good timeJ.
We also recommend that you call us and arrange a meeting with us so that we can show you around, before your pets' first stay.
If you have any further questions, special care/needs, -please call us, we will try to help whenever it is possible.
Outside weekends and vacations the place is also used for dogs in
daycare..
Yours sincerely
Birgit & Kent Karlsen